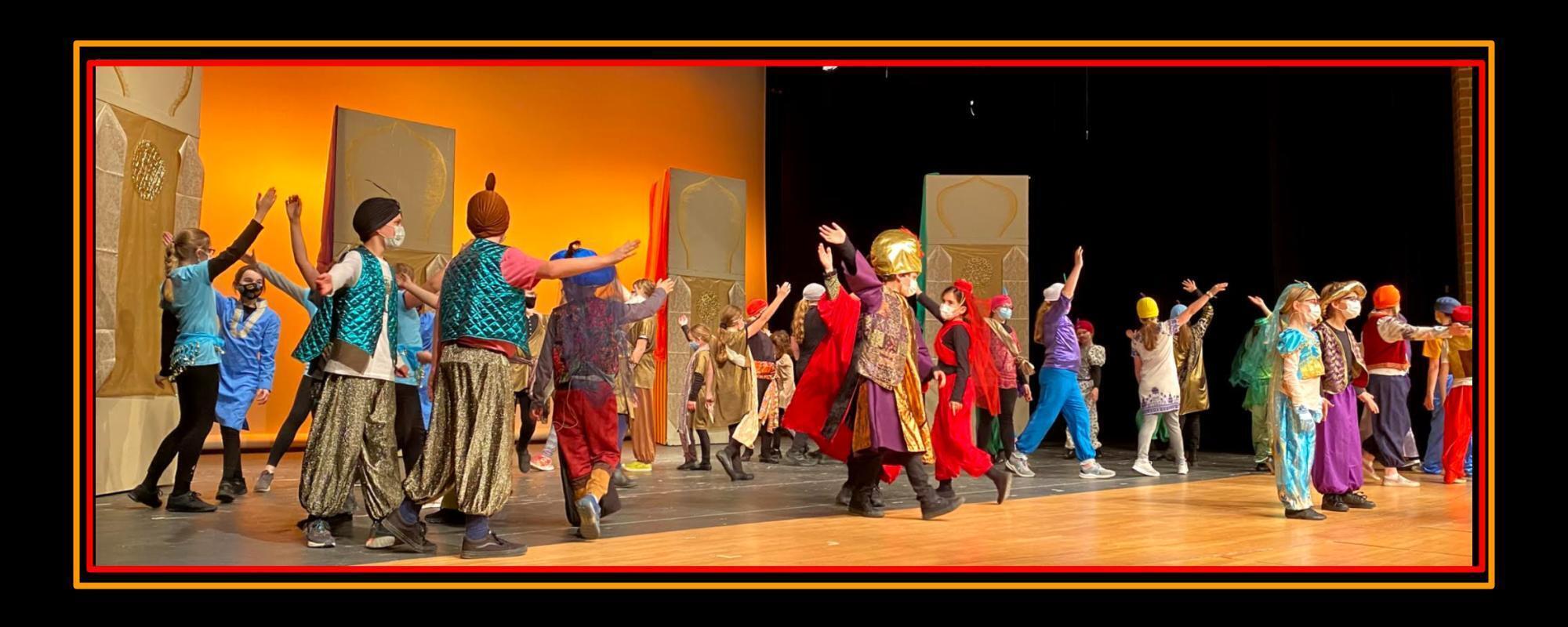 Petoskey is lucky to have the Enrichment Play Program! It's performance of Aladdin Jr. was a success in more ways than one! Read on for a Q&A session with Petoskey's own Julie Laur.
Q: How many students and what ages are they?
Miss Laur: Our 2021 Elementary Enrichment Play cast included 44 members, aged 8-11 (3rd-5th grade).
Q: From which schools are the students?
Miss Laur: The students that were part of the cast are from Central, Lincoln, Montessori, Ottawa, and Sheridan.
Q: Of all of the students that are involved, are they all actors/actresses? Or do some help with other roles?
Miss Laur: No, not all students are involved on stage. We had a high school student act as the backstage manager and about a dozen middle schoolers serve as sound, lights, and stage crew members through the PMS Apprenticeship Program. There were also PMS students who helped paint the sets.
Q: Where did the costumes come from?
Miss Laur: This year's costumes came from our Elementary Enrichment Play closet at PMS. Over the years, costumes have been created by volunteers and purchased through ticket sales money. For example, the directors created many of the hats for the show using faux jewels and a glue gun!
Q: How long did it take them to prepare?
Miss Laur: Putting on a musical is a big process. Directors begin work on the show 6-8 months before the performance. Auditions are held in February each year, and rehearsals run through April. During that time, the PMS students are preparing the costumes, props, and sets. Elementary students spend two and a half months learning all of their lines, music, and choreography before sharing with an audience.
Q: What staff members are involved in the whole production?
Miss Laur: This year the team consisted of: Mrs. Asiala-Gross as director (music teacher at Lincoln/Ottawa); Miss Saunders as assistant director (Language Arts teacher at PMS); Mrs. Munk sound director (Petoskey Technology department); and myself as music director (music teacher at Central/Sheridan).
Q: Do you know what opportunities students have to continue their love of performing into middle school?
Miss Laur: YES, thanks for asking! If you want to sing, join the fall show! The PMS musical is a no-cut show, meaning that if you try out, you are guaranteed a spot on stage, as long as you can commit to the behavior/attendance expectations. Sadly, there is no choir (singing) experience during the day for 6th or 7th graders. In previous years, 8th graders have walked over to the high school to sing with the freshmen choir. Middle school students can also join the band and learn to play a brass, woodwind, or percussion instrument. Students that enjoy theater but don't want to be onstage can get involved in the Theater Apprentice Program and assist with lights, sound, costumes, props, and backstage work.