Special Populations
Robin Ingalls

Special Populations Coordinator
Public Schools of Petoskey
ingalls.rj.t@northmen.org
231-348-2237
Enrollment - Nicole Morrow: (231) 348-2354
Native American Education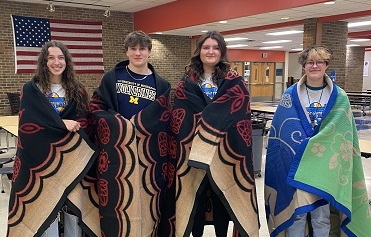 In an effort to re-engage our native students with the opportunities provided by this grant, we are asking parents/guardians of Indian* students to complete an ED 506 Form. This form serves as the official record of the eligibility determination for each individual child included in the student count for the Title VI Indian Education Formula Grant Program. This form will be kept on file and will not need to be completed every year.
If your children meet the eligibility requirements listed below and you wish for them to be included in the Indian student count and receive information on programming, please complete one form per child and return all forms to Nicole Morrow. Forms can be completed electronically and emailed to morrow.nm.y@northmen.org or mailed to or dropped off at 1130 Howard Street, Petoskey, MI 49770.
*Indian means an individual who is:
A member of an Indian Tribe or Band, as membership is defined by the Indian Tribe or Band, including any Tribe or Band terminated since 1940, and any Tribe or Band recognized by the State in which the Tribe or Band resides;
A descendant of a parent or grandparent who meets the requirements described in paragraph (1) of this definition;
Considered by the Secretary of the Interior to be an Indian for any purpose;
An Eskimo, Aleut, or other Alaska Native; or
A member of an organized Indian group that received a grant under the Indian Education Act of 1988 as it was in effect on October 19, 1994.
LTBB Youth Services Tutoring Program
LTBB Education Department Tutoring Program
English Language Learner Services