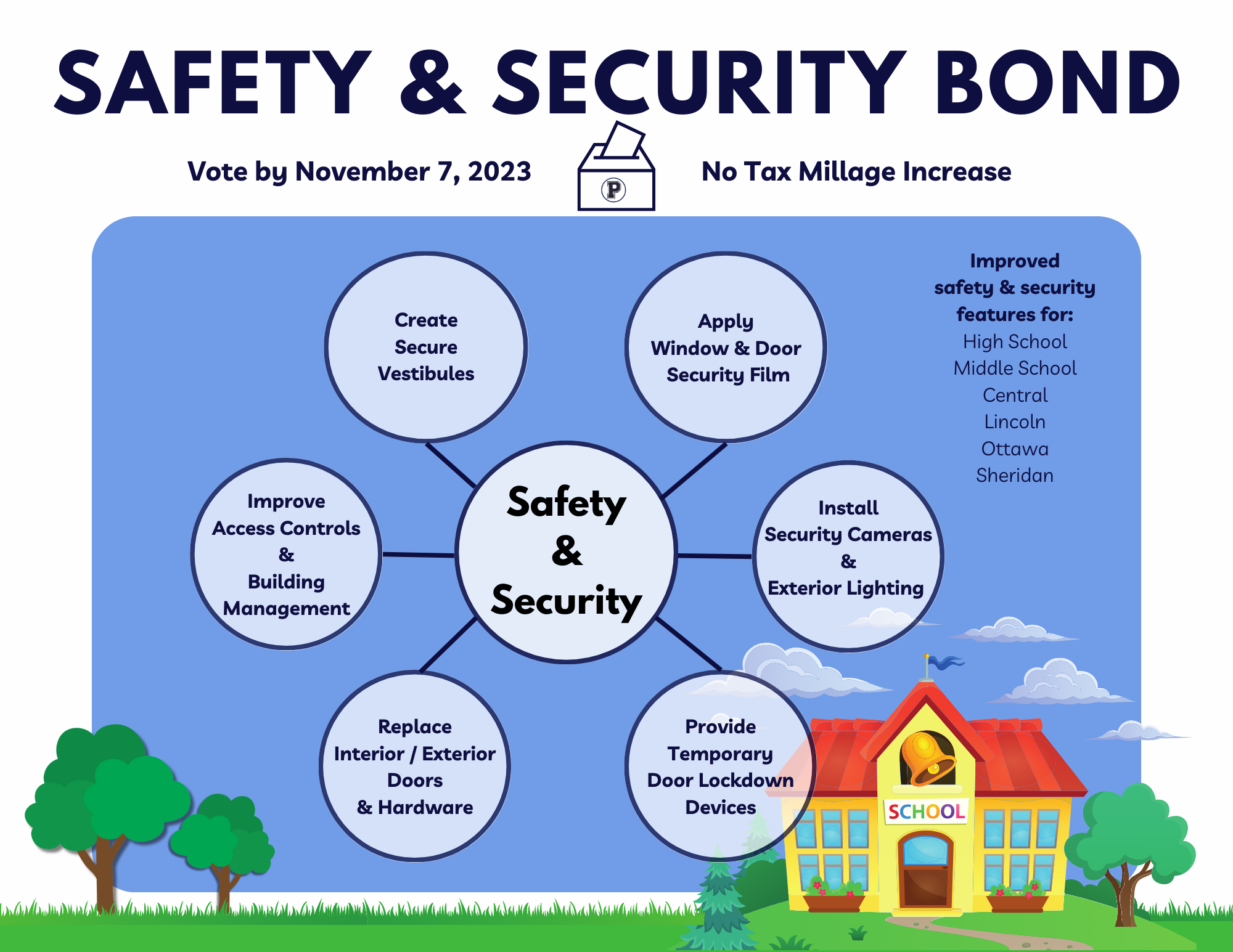 Important Facts:
Community, staff, and public safety input led to a 2022 risk assessment report from Codentity and Navigate360. Based on the expert assessment reports, the proposed bond funds will be used solely for safety and security improvements.
The existing operating budget cannot address the necessary security needs for our school buildings in a timely fashion.
A ZERO mill tax rate increase would maintain the current tax rate for Petoskey district residents.
Common Proposed Bond-Funded Projects for security + safety inside and outside of school buildings, based on the expert recommendations, include:

Secure entrance vestibule
Interior and exterior doors and hardware upgrades
Temporary door lock-down-devices
Security film at classroom entries from corridors and windows
Electrical upgrades
Exterior lighting for safety
Security cameras
Access Control for doors and windows
Security Technology Enhancements that include public safety communication

Bond Scope of Work Budget:

Petoskey High School................$4,500,000
Petoskey Middle School............$2,300,000
Lincoln Elementary School.......$2,100,000
Central Elementary School.......$2,800,000
Ottawa Elementary School.......$2,600,000
Sheridan Elementary School....$3,600,000
Administration Building............$ 200,000
Total..............................................$18,100,000
Like all public schools, Public Schools of Petoskey are primarily funded locally through voter-approved tax millages.
Vote by November 7, 2023. Absentee voting available September 28, 2023.
Need more information? Please attend one of our community forums! Click for dates!