Principal's Welcome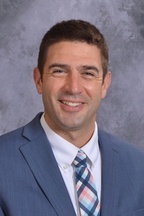 Dear Sheridan Elementary School Students, Parents, and Families:
At Sheridan Elementary, our team considers it an honor and a privilege to have the opportunity to work with your child(ren). Our committed team of educators remain focused on the whole child, and work tirelessly to make sure that they are appropriately engaged and challenged in their academics, and that their unique needs are met. We pride ourselves in making sure that each student receives a well balanced educational experience and at the culmination of their elementary experience they leave our school prepared to be successful at the next level, and in life!
It is my privilege to serve as the principal of Sheridan Elementary, where the children are our highest priority and focus. Our dedicated staff truly lives by our motto, that simply states that we are "A quality school…just for kids". The instructional teams and student centered programs at Sheridan are outstanding! As a parent of elementary age children, I have been incredibly happy with the experiences and education that they have received while at Sheridan. Our school continues to shine with our incredibly caring and connected school family and community.
Our teachers and support staff are driven to provide success for our students, and we are honored to serve the Public Schools of Petoskey. This is a school district and community with much to celebrate! I look forward to continuing to maintain and foster many strong relationships within our schools and community, continuing to support and expand the wide variety of great educational experiences for our children. The partnership with our parents and families is something that we all highly value and sincerely appreciate!
With Gratitude,
Mark Oberman
Principal - Sheridan Elementary School
(231) 348-2141
oberman.ms.m@northmen.org