Principal's Welcome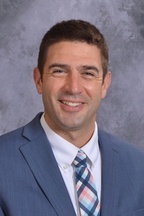 Hello Sheridan!
We are looking forward to reconnecting with our students and families in a few short weeks! It has been a busy summer working to prepare our schools and staff to support both in-person and on-line instruction for the 2020-2021 school year. The safety and well being of our students, families and staff members is our highest priority upon our return, and your partnership and support will be critical in making sure that we can ensure a healthy and happy return to the school setting.
As the year begins, there will be a variety of changes to our daily routines and expectations. Following the recommendations and guidelines of our signs and communications will all us to collectively support health, wellness and learning at Sheridan. Please know how much we value your commitment to the Public Schools of Petoskey, especially to Sheridan, and we look forward to seeing so many of our students and families back with us on September 8th.
Here's to a great year!
Mr. Mark Oberman
Principal - Sheridan Elementary
oberman.ms.m@northmen.org
(231) 348-2141