Principal's Welcome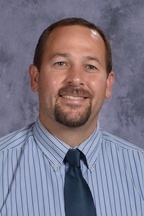 Welcome to Petoskey Middle School, a place where we "learn and grow together."
I am honored to serve as the Principal of Petoskey Middle School, a school that is committed to providing an excellent education for every child. Our staff works hard to reach the needs of every student during this time of growth in their lives.
Each year, students at Petoskey Middle School score higher than the state average on standardized assessments. In 2016, the Michigan Department of Education designated Petoskey Middle School as a Reward School for outperforming schools with similar demographics. In 2022, US News and World Report identified Petoskey Middle School as a "Best Middle School" by ranking in the top 7% of all middle schools in the state. Although we are proud of our scores and accomplishments, we strive to continually improve teaching and learning. Our goal is always to increase proficiency in all subject areas.
Middle School is a time of transition for the young adolescent. We focus on guiding our students through these times by developing the whole child, creating a positive self-image, and living a healthy lifestyle. This is done, in part, by implementing and teaching the tenets of the Full Value Agreement: Work as a Team, Be Safe (physically and emotionally), and Speak Up. We also strongly encourage each student to become involved in extracurricular activities!
We look forward to working with all the students, parents, and community during this school year.
If you are new to the area and are interested in your child attending Petoskey Middle School, we are happy to provide you more information. You may find this letter helpful when considering Petoskey Middle School.
Go Northmen!
-Jon Wilcox, Principal