Principal's Welcome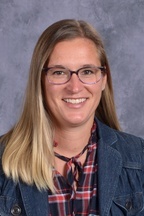 Welcome Petoskey High School Families,
As the Principal of Petoskey High School, I am honored to be able to welcome you to the 2022-23 school year. Our top priority at PHS is to provide all students with a safe learning environment so each student can grow academically and emotionally, in order to graduate from Petoskey High School ready for college and career.
This year at PHS we are implementing a new PRIDE initiative, which stands for: Personal Integrity, Respect, Inclusivity, Dedication, and Engagement. Every Thursday, all teachers discuss PRIDE expectations in their classes and the staff celebrates students with PRIDE tickets and weekly prizes for demonstrating these characteristics at school.
On Thursdays, PHS also promotes college and career readiness with Reach Higher Thursdays. Students are shown videos and provided information on opportunities in our community and throughout the state for life after high school.
At PHS, we also continue to focus on helping students prepare a plan for success beyond high school by providing a variety of learning opportunities. Petoskey High School offers eight AP courses, eight CTE programs at our building in addition to seven other CTE opportunities within the ISD. With our close proximity and partnership with North Central Michigan College, we are able to offer an Early College program and Dual Enrollment opportunities for our students.
PHS takes PRIDE in our Fine Arts and extra-curricular activities. PHS is home to the PHS Marching Northmen, Steel Drum Band, and Madrigal music programs. We also offer National Honor Society, Student Leadership, Robotics Club, Model UN, Diversity Club, and numerous other activities for students to find their fit at PHS.
The staff at Petoskey High School is proud to be part of the Public Schools of Petoskey team and support students as they prepare for and explore opportunities for life after graduation. PHS is happy to welcome our students back for the 2022-23 school year.
Deidra Gamble
Principal, Petoskey High School