Principal's Welcome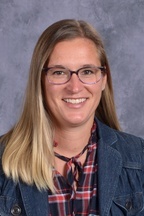 Welcome Petoskey High School Families,
As the Principal of Petoskey High School, I am honored to be able to welcome you the 2020-21 school year. Our top priority at PHS is to provide all students with a safe learning environment so each student can grow academically and emotionally, and to graduate from Petoskey High School ready for college and career. Although this year will look a little different, this is no exception.
Our team is ready to follow all policies and procedures established in our district Return to School Safety Plan to maintain the safety of our staff and students. This year we are also offering an online learning option so families can select the learning environment that is right for them. With both in-person and online learning, students will be learning with highly qualified PHS staff.
This year we will also be utilizing Chromebooks and the learning management system Canvas to support student learning. This resource will allow students to learn from anywhere. Students will be able to view lessons, submit work, and receive feedback on their learning with the use of Canvas. We are excited to be able to provide this resource to support student learning this year.
The staff at Petoskey High School is happy to welcome our students back for the 2020-21 school year.
Deidra Gamble
Principal, Petoskey High School