COVID-19 Dashboard
Current & Cumulative Cases by Building
Date
Reported
District
Building
Positive
Cases
Probable
Cases

Cumulative

07/16/2021
Central Elementary
--
--
3
07/16/2021
Lincoln Elementary
--
--
4
07/16/2021
Ottawa Elementary
--
--
8
07/16/2021
Sheridan Elementary
--
--
2
07/16/2021
Middle School
--
--
24
07/16/2021
High School
--
--
67
07/16/2021
Spitler Admin
--
--
4
07/16/2021
Montessori
--
--
2
07/16/2021
Bus Garage
--
--
1
Historical Cases by Week & Cumulative Total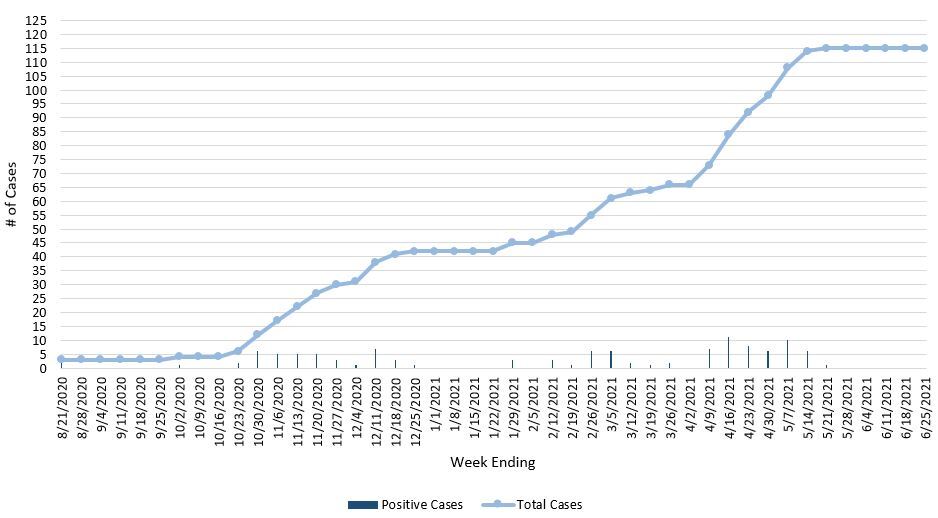 COVID-19 Notification Letters
Data Reporting
The health and safety of our students and staff is our top priority. We will continue to monitor the spread of COVID-19 in our schools and in our community and will make decisions and adjustments to our instructional and extracurricular offerings based on data. Some of the data we will be monitoring is internal, like a daily review of absences and reports of COVID-19 related symptoms or confirmed positive cases among students or staff, while other data we will be monitoring is provided by the State of Michigan and is publicly available on the MI Safe Start Map Info page, which is linked below. Additionally, we will be in regular communication with the Health Department of Northwest Michigan and McLaren Hospital as we strive to continue to provide in person instruction in a safe and healthy manner. Data we will be continuously monitoring includes:
The trend of

COVID

-19 cases or positive

COVID

-19 tests
Hospitalizations due to

COVID

-19
Number of deaths resulting from

COVID

-19

COVID

-19 cases for each day for every 1 million individuals
Percentage of positive

COVID

-19 tests over a 4-week period
Health care capacity strength
Testing, tracing, and containment infrastructure with regard to COVID-19
These graphs will be updated each Friday, no later than 6:00pm. Should we find ourselves in a situation where in-person instruction needs to be reduced for any of our students, we will work to prioritize in person instruction for our K-5 learners.